Friday, 25 November 2011 09:58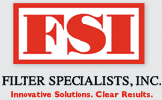 FSI is the industry leader in innovative, state-of-the-art filtration products and solutions. With over 48 active patents, including Polyloc® ring and Polymicro®seamless filter bags, we continue to provide our customers solutions to their filtration needs. 

In 2004, FSI was recognized by the Automotive Industry when we received the Automotive News Pace Award forFerrX 5000® Magnetic Separator. The FerrX 5000 is uniquely designed to remove ferrous materials from the effluents used to clean and rinse the surface of welded body units prior to the paint application. 

Established in 1972 in Michigan City, Indiana, FSI has grown into a worldwide supplier of superior-value filtration products and solutions.
Complete Manufacturing Control
An important factor in our competitive edge is that we maintain complete control over the entire manufacturing process: FSI extrudes fiber, needles felt, spins yarn, mold injects plastic components, sews/welds filter bags, and manufactures a complete cartridge line. In addition, we engineer and fabricate ASME-code filter housings and equipment. 


Advanced Laboratory Facilities and Filtration Experts
Other factors which allow us to lead the industry are: our products are manufactured in a silicone-free environment, we have advanced laboratory facilities located in Soddy Daisy, Tennessee, and we have a highly educated team of filtration experts. 

FSI distributors and sale representatives continue to build upon their knowledge base and skill each year as 
 are shared and disseminated among our in-field and laboratory experts. By sharing process engineering successes and challenges with each other, our company is able to provide proven applications solutions to all types of industries. In many cases, such solutions have saved our customers tens to hundreds of thousands of dollars annually. 


Bottom-line performance
Our goal is to help our customers provide the highest levels of product quality and output while helping them improve their bottom-line performance.


 – Certified, ASME Certified, FDA Compliant, and NSF Certified. Verifications of these certifications and compliance records can be printed by clicking on the associated link. 


FSI Patents 
Products of Filter Specialists, Inc. are protected under one or more of the following United States patents:
#4,983,292; #5,137,632; #5,514,275; #5,527,463; #5,918,756; #6,638,425; and #6,833,069
FSI Trademarks
The following are registered trademarks of Filter Specialists, Inc.:
FerrX 5000®, Polyloc®, Polymicro®, Polysorb®, Polyweld®, Polywound® and Vorex®