Friday, 25 November 2011 09:55
Entegris
based on
0
voters.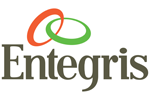 For more than 40 years, Entegris has been a provider of critical products and materials used in advanced high-technology manufacturing. These products and materials are often used to make the building blocks of many of the world's most complex microelectronic products, such as computers, mobile devices and phones, data storage components, televisions and monitors, and automobiles.
Headquartered in Billerica, Massachusetts, Entegris employs approximately 2,800 people worldwide, with roughly half employed in Asia-Pacific or Europe.
With research and development, customer service, analytical labs, and manufacturing in Asia-Pacific, North America, and Europe, Entegris supports customers around the globe as they take technology to the next level.
Contact Information
You can contact Entegris by e-mail, telephone, or complete and submit the form on this page. 

Please contact Entegris Customer Service (Worldwide) at the following telephone numbers or email  This e-mail address is being protected from spambots. You need JavaScript enabled to view it : 

Tel.+1 952-556-4181
Tel. 800-394-4083 (toll-free within North America) 
Fax +1 952-556-8022

For questions or comments about this website, e-mail  This e-mail address is being protected from spambots. You need JavaScript enabled to view it .